Volunteer choir director, Andrea, kicks off each sing-along with a rousing rendition of "Hail, Hail, the Gang's All Here!" Arriving every-other-Tuesday, often right from work, Andrea leads the choir with the voice and heart of an angel. After Andrea's mom, Ernie, moved to Aspired Living of Prospect Heights, Andrea started the choir as way to spend more quality time with her while sharing her singing talent—which she "gets from mom." 
"My mom was a big band singer, and she performed at the Aragon Ballroom back in the day," says Andrea, adding, "I've been singing since I was three!" Today Andrea performs and competes nationally with the Choral-Aires Chorus and sings with two a cappella groups. 
"Andrea's energy and enthusiasm attracts singers, non-singers and even a gentleman to the choir," says Megan McInerney, Aspired Living's VIVA! Life Coordinator. The choir in an integral part of Aspired Living of Prospect Heights's signature Encore program, which sets the stage for artistic expression, education and appreciation for residents who rarely miss a beat! 
"I love to sing and am so happy to be part of this group," says Aspired resident Dottie, who continues to pursue her vocal passion after a lifetime of performing in various choirs since grade school.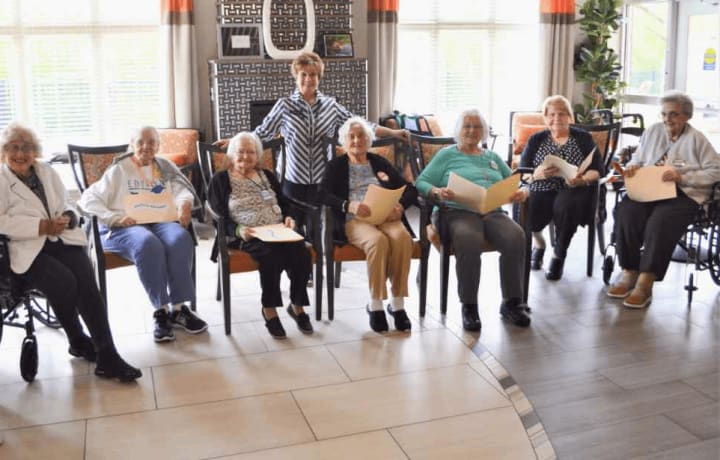 There are some very good reasons to sing the choir's praises.  Evidence shows that members reap benefits from crooning together such as sharper mental focus, increased socialization and a joyful boost in positive feelings. 
Andrea sees the healing benefits firsthand in the smiles and participation of her singers. "Music puts people in a good mood by blasting those feel-good endorphins." 
Ernie is clearly one of the happiest—and proudest—choir members as she grins mid-song and points to Andrea up front and says, "That's my daughter!" 
"I just love doing this for my mom, the residents and me," says Andrea, who admits that singing and giving back make her feel pretty darn good too. 
---
We Would Love to Hear from You!
If you have comments or questions about our blog, we'd love to hear from you. We also welcome you to visit to read our recent blog articles on current caregiver and memory care topics.  
Live Well. Age Well. Be Well.
Offering Independent, Assisted Living and A Knew Day Memory Support, Aspired Living® of Prospect Heights is a distinctive senior living community designed to offer seniors residing in the Chicago Northwest Suburbs area a fresh alternative to "typical" senior living communities.
Aspired Living® of Prospect Heights provides residents with the ideal balance of personalized support, dignified privacy and enhanced independence complemented by luxurious amenities and our life-enriching, award-winning VIVA!SM programming by Pathway to Living®.
Managed by Pathway to Living®, an innovator in senior living, Aspired Living® offers the choice of a private studio or a one- or two-bedroom apartment and the beauty of a brand new community, stunningly appointed and decorated for unsurpassed comfort and style by the award-winning senior living design firm, Thoma-Holec Design, Inc.
For more information, please call Diane or Janette, Lifestyle Specialists, at 847-243-6920.
Disclaimer: The articles and tip sheets on this website are offered by Aspired Living® of Prospect Heights for general informational and educational purposes and do not constitute legal or medical advice. For legal or medical advice, please contact your attorney or physician.