Leading By Example
The senior living industry has always been complex and challenging. This is perhaps even more true today. Meeting the needs of this unique industry – and of America's aging population – requires not only experience, but a passion to succeed. At Pathway® to Living, we believe we measure up to the challenge.

Pathway® Corporate Team
Pathway® begins with a foundation of unmatched experience. Our seasoned management team has community- and corporate-based experience with many of the top industry owners and operators in the full continuum of seniors' housing and the full lifespan of communities – from concept and development, to start-up or post-acquisition transition, through lease-up and stabilization. This expertise allows us to provide both proven solutions and creative new approaches that meet the needs of each community we operate.
Our corporate team works closely with community team members to offer the highest level of service, providing unsurpassed guidance and support. In fact, we are available around the clock to key community personnel. Our goal is to work together to excel in occupancy, customer and employee satisfaction and financial performance. It is a win-win-win situation!
Nicole Bartecki, Vice President of Sales & Marketing
---
My fondest Childhood memories all stem from sitting around the table with my family and playing board games.  No matter what was going on in life, this was a time to laugh and have fun.  My competitive nature developed during these family games.  This is a tradition that carries on today not only with my father and sisters but with my husband and own children.  Board games teach good sportsmanship, friendly competition and a strong family bond.  As hard as it is, I have learned through my children that while winning is fantastic, sometimes you have to put that competitive nature aside for the good of the cause.
Nicole Bartecki is a marketing and sales professional with over 20 years of sales experience in the senior living industry and over 12 years of sales management experience. Nicole has been involved in sales and marketing from the community to the executive level within the skilled nursing, assisted living and memory care settings. Nicole has successfully planned, managed and executed sales and marketing plans for start-ups, acquisitions and repositioned communities including the rebranding and identity development. As the Vice President of Sales and Marketing and a member of the executive team of Pathway to Living since 2011, Nicole is responsible for the branding strategy and optimization, market research, and creation and execution of integrated strategic marketing plans for the sales and marketing efforts for the ever-expanding portfolio of Pathway to Living communities, as well as all acquisitions and management contracts nationwide.
Lisa Rogers, Director of Human Resources
---
Adventurous comes to mind when I think of myself. What is work to one person may be fun for me. It seems to me that fun, happiness and joy are interconnected. For that very reason I enjoy each and everyday and embrace the moments that I have. Whether I'm hobnobbing around the castle at Hogwarts, running on the Great Wall of China barefoot or bundled up watching a good movie, with chocolate, I always make sure I am having fun. I believe that each day is what you make of it, doing something new always excites me and being able to do it with my family and friends is awesome. New adventures and fun are my passion and they run deep within my soul. Living life to the fullest is what drew me to Pathway and the mission we celebrate everyday. I live by this quote to remind myself that there is good in everything we come in contact with: "Happiness can be found, even in the darkest of times, if one only remembers to turn on the light." (J.K. Rowling, Harry Potter and the Prisoner of Azkaban -Spoken by Albus Dumbledore)
Lisa joined Pathway to Living in June of 2010 as the Human Resources Manager and was promoted to her current position. Lisa is a Senior Certified Professional with Society of Human Resource Management and sits on the Assisted Living Federation of America's Human Resource Executive Roundtable and the Advisory Board for SHINE – Senior Care HR Innovation, Networks & Engagement Summit. Prior to joining Pathway, Lisa spent 7 years as the VP of Shared Services at Knight Industries a roofing manufacturing company and 13 years as a Human Resource Manager for General Electric in their financial portfolio. Lisa brings over 25 years of Human Resources experience to the organization.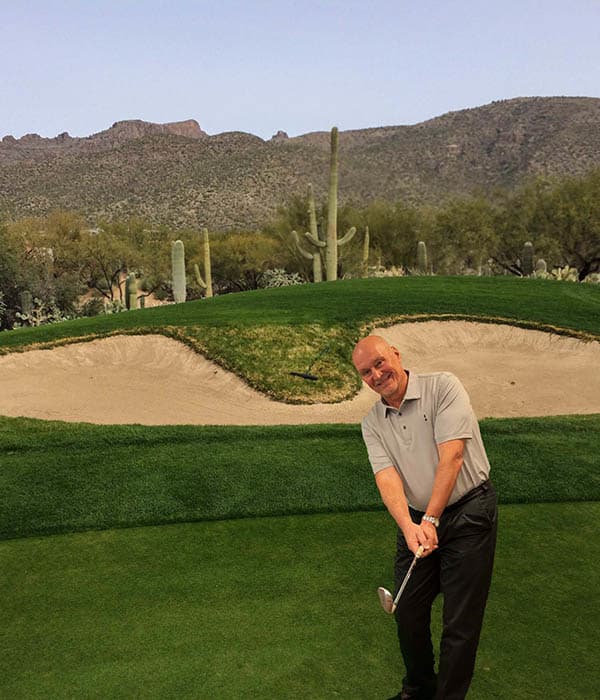 Jerome E. Finis, Partner
---
I graduated from the University of Illinois where I was a member of the Fighting Illini football team and captain of the Track and Field team. Athletics has always been an important part of my life and I have continued my interest as an avid golfer, cyclist and tennis player.  Whether participating in a team sport  or developing my skill in an individual practice, it helps satisfy my competitive spirit.   This spirit of performing at our best, supporting our team members, and pushing ourselves to continuously learn is essential in the work we do and to the organization we've created.
As a founding member of Pathway to Living, LLC, Jerry has over 19 years of experience as an operator, developer and owner of over 2,400 units of seniors housing located throughout the Midwest.  He sits on the Executive Board of the American Seniors Housing Association and is the past President of the Affordable Assisted Living Coalition.  As CEO, Jerry is responsible for guiding the company growth and investment strategies.