Like on their wedding day processions, horns were honking for Phil and Marilyn Beluscheck and Ken and Nancy Woodman as both couples celebrate 69 years of marriage April 21st at Aspired Living of Westmont, where all four live. 

On a beautiful Tuesday morning, Westmont police officers and firefighters rolled up to the senior living community parking lot at 407 W. 63rd Street at 11am with horns and sirens blaring in honor of the dual anniversaries. 

The Beluschecks were Aspired Living's first assisted living couple and the Woodmans were Aspired Living's first memory support couple when the senior living community opened in 2017. Phil, age 90, was pleasantly surprised to learn that he and Marilyn were married on the exact same day 69 years ago as their neighbors. Can you believe it? "What a nice coincidence!" he said. 

This year the anniversary celebrations will look a little a bit different because of social distancing. 
"We'll just be hanging out," said Phil, who is taking sheltering safely at home in stride and not letting social distancing dampen his spirits. Plus, he is thoroughly prepared as he already sent Marilyn flowers. 

Although the Beluscheck and Woodman family members cannot join the parties, plenty of special guests and surprises joined the couple and all of Aspired Living of Westmont to celebrate.

The big day started with Westmont Mayor, Ronald Gunter, FaceTiming each couple with well wishes. Westmont's police and fire departments will kicked off the public celebration with honking horns and blaring sirens while fellow residents and team members chimed in with noisemakers of their own. Aspired Living team members are also cooking up their own surprises with anniversary cakes and live piano serenades of "Let Me Call You Sweetheart" and the "Anniversary Waltz."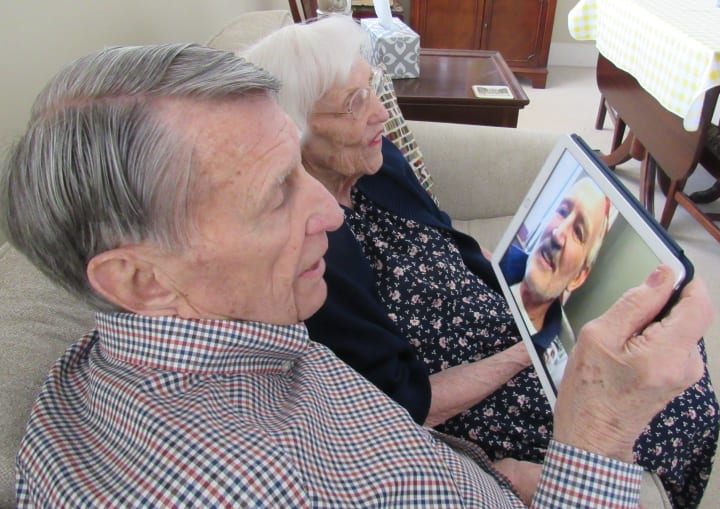 Phil and Marilyn Beluscheck Facetime the mayor of Westmont on their 69th wedding anniversary.

Afternoon dancing was on the agenda Ken and Nancy, who love to boogie to 1940's big band music. "They always shined on the dance floor at every family wedding," recalled their daughter, Kim Webb. She is especially happy that, although she cannot be there to see it, there will be dancing, since there was no dancing at her parents' own simple, post-war wedding reception held in the church basement. 

When asked the age-old question: What's the secret to a happy marriage? Phil joked, "Do what you're told!" But this married man of 69 years knows better and answered with sweet sincerity, "Be aware of each other's needs and wants and likes and dislikes. Give-in and go-along. And, above all, always be kind to one another."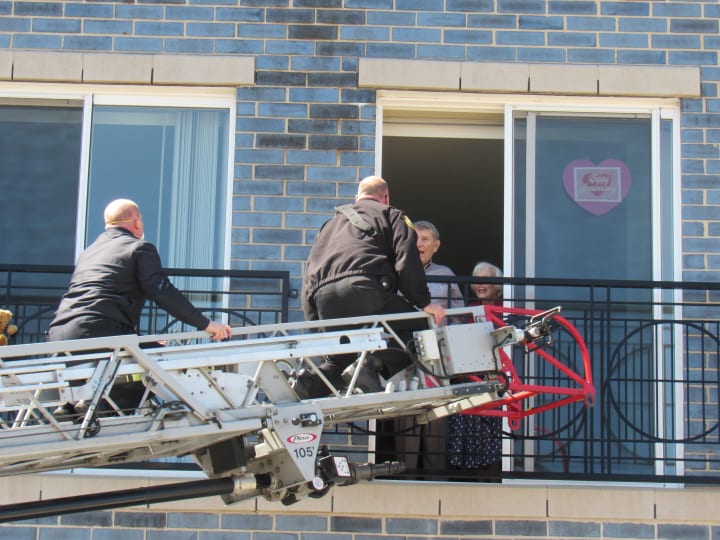 The Village of Westmont's fire and police department wished the Woodman and Beluscheck couples a Happy Anniversary from a safe distance!
Phil and Marilyn from the Beginning 
Phil and Marilyn met as teens growing up on Chicago's far south side. Phil played football for Fenger Academy High School, and on the way home from practice each day he walked past Marilyn's house. She would always be outside and must have caught his eye as he sold her a ticket to the Roseland YMCA dance, where they shared their first dance. 

"It's been a wonderful life together," says Phil. "We have accomplished a lot and made many happy memories." 
After serving in the Marines, Phil worked for General Motors for 35 years and retired at an executive level in 1970. He and Marilyn raised their daughter in Western Springs, where they lived for 45 years before moving to Aspired Living. They have two granddaughters nearby. 
Ken and Nancy from the Beginning 
Ken grew up in Chicago and Nancy in Maywood. The two met, by accident, at Northern Illinois University, where Ken was attending on a G.I. Bill. Ken came to pick up Nancy's roommate for a date, but her roommate had already left with someone else. Nancy asked what Ken had planned, and when Ken told her it was ice skating, she said, "I like to skate." Off they went on their first, sort of, date. 

Ken worked as a teacher, and he and Nancy raised their two daughters in Willow Springs and Hinsdale. They enjoyed weekends at a Grandma's Fox River cottage. Eventually they bought a cottage of their own on Eagle Spring Lake in Wisconsin, where they spent summers, while wintering in Venice, Florida. 

Kim said the family, which includes five grandchildren and two great-grandchildren, looks forward to visiting in person again soon. 
---
About Aspired Living of Westmont 
Aspired Living of Westmont, located at 407 W. 63rd Street, Westmont, IL, offers independent living, assisted living and A Knew Day® Memory Support. For more information, call 630-283-8755 or visit pathwaytoliving.com.