Before women were working their way towards becoming C.E.O.'s, presidents and leaders of major corporations, there were the women marching for equal rights in the workplace decades prior.

Resident Kaye Janus of Prospect Heights, Illinois, is proud to call herself one of the "pioneers" who led the way for women to shatter the proverbial glass ceiling and exceed at all levels of business.

A resident of Aspired Living of Prospect Heights, Janus rightfully boasts her resume as a paralegal at Glenview Law Firm through the 1980s. "There were very few [women] paralegals," Janus recalls of her time working beneath an essentially all-male staff. "Women did most of the work anyway," she laughs. 

While raising two children, Verra and Peter, in Glenview, Janus was one of the handfuls of women who became fed up with the status-quo and took charge of a movement she believed in and a movement that transcends to present day. She organized a local Women's March within her own town alongside equally passionate people looking to trigger real change.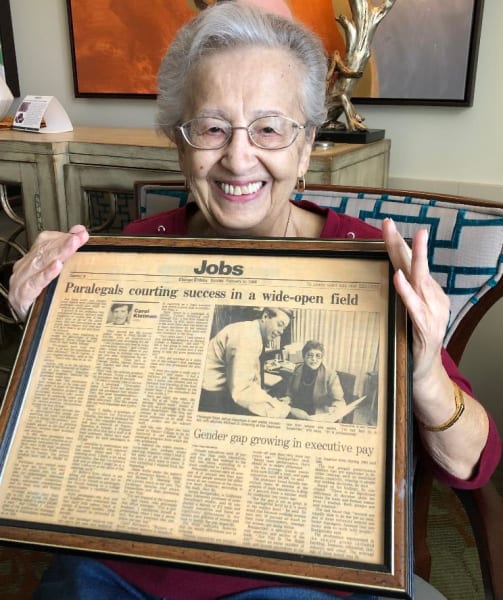 "I was marching for myself," Janus explains. "We wanted to break the glass ceiling – and that's what we did. So women could be more than secretaries and assistants. They can be attorneys and they can be presidents of corporations and that's what we marched for."

The 1986 march was not met without dangerous pushback and perilous hostility. "We were told we would be harassed," Janus conveys. "Men would line up and call us names. And we just marched forward – eyes straight." Adding, "We knew it was going to happen."

To this day, Janus wonders why some people were fearful of women climbing the ladder, or even making it to the top. "I don't know why [men are intimidated by women], but they are. I think it's ridiculous." Janus continues, "They felt threatened. They were afraid we were going to take over their jobs."

Now, Janus affirms the hardship was worth it. "It was an era of change and I'm proud I was part of that. It was a baby step, but that's where it started." She goes on, "We woke up and we opened the door for women who were smarter than their bosses."

As far as advice for women today, she advises, "Keep marching; keep walking. Don't let anybody stop you from what you can do." Janus declares, "We're strong."
---
Live Well Beyond Ordinary at Aspired Living®
 
Offering Independent, Assisted Living and A Knew Day® Memory Support, Aspired Living® of Prospect Heights is a distinctive senior living community designed to offer seniors residing in the Chicago Northwest Suburbs area a fresh alternative to "typical" senior living communities.
Aspired Living® of Prospect Heights provides residents with the ideal balance of personalized support, dignified privacy and enhanced independence complemented by luxurious amenities and our life-enriching, award-winning VIVA!SM programming by Pathway to Living®.
Managed by Pathway to Living®, an innovator in senior living, Aspired Living® of Prospect Heights offers the choice of a private studio or a one- or two-bedroom apartment and the beauty of a brand new community, stunningly appointed and decorated for unsurpassed comfort and style by the award-winning senior living design firm, Thoma-Holec Design, Inc.

For more information, please call our Lifestyle Specialists at 847-243-6920.

Disclaimer: The articles and tip sheets on this website are offered by Aspired Living® of Prospect Heights for general informational and educational purposes and do not constitute legal or medical advice. For legal or medical advice, please contact your attorney or physician.
---