SenseSations by Pathway to Living
At Aspired Living of Westmont, Breakfast, lunch and dinner are prepared with the utmost attention to detail while cultivating a menu of choices and dishes with vibrant flavors. 
 
Why is our dining so unique?  Everything is locally sourced and prepared onsite by our Culinary Experience Manager.  Our ingredients are fresh, our flavors are bold and the experience will leave you satisfied.  Enjoy meals surrounded by friends at the Sycamore restaurant or the Prairie Grass bistro.  Also, relax with good conversation and company at the Muddy Waters Bar. ​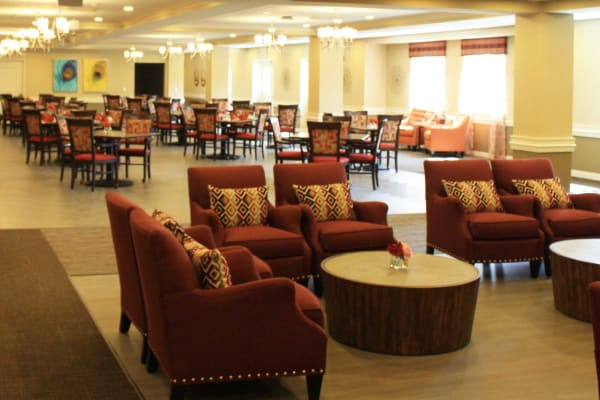 Sycamore Restaurant
Beautifully designed and spacious, the Sycamore has seating to accommodate dining alone, sharing a meal with a friends, or celebrating with a large group.  For those special occasions you can reserve our private dining area for a more intimate environment.
Hours:
Monday Through Sunday 7:00 am to 7:00 pm.   
Prairie Grass Bistro
Come down to read the paper or meet friends for coffee or lunch.  The Prairie Grass Bistro has an open and airy feeling that our residents love.  Here you can enjoy pastries, coffee and other beverages from our more casual and on-the-go menu. And don't forget to take advantage of our outdoor patio.  
Hours:
Monday Through Friday 7:30 am to 4:00 pm
Saturday and Sunday  7:30 am to 3:00 pm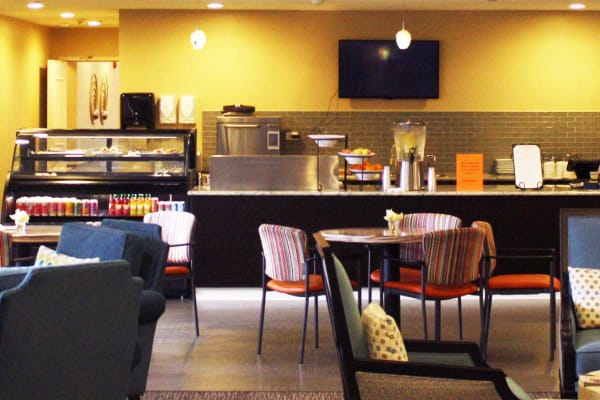 The Muddy Waters Bar
Unwind for happy hour or an after dinner cocktail. The Muddy Waters Bar is the perfect place to have conversation over a drink, glass of wine or soda.  The Muddy Waters has a beautiful bar along with comfortable lounge chairs and a big screen TV for game day or the Oscars.
Farm-to-table and Prepared from Scratch
The freshest ingredients make for the best tasting meals.  Our goal is to provide nutritious and tasty meals for the body and soul.  Creating a sense of wellbeing and community  through our culinary experience is paramount.  Inspired by locally sourced ingredients and our own backyard garden, residents can enjoy their favorite dishes year-round.
Locally Inspired
We love local! A portion of the food purchased for our culinary program is sourced locally. This means it's seasonal and fresh and it supports local farmers and artisan producers in our immediate community.
Resident Engagement
Aside from planting and picking vegetables, fruits and herbs from our Victory Gardens, residents are encouraged to meet with the culinary team every month and collaborate on the upcoming menus.